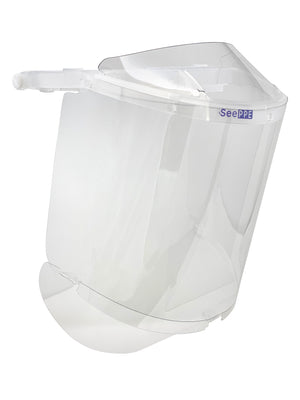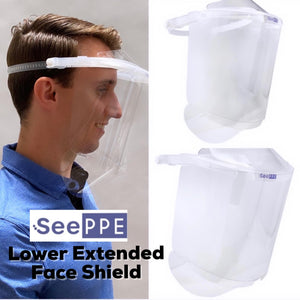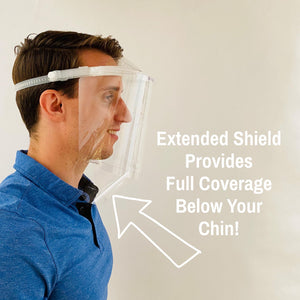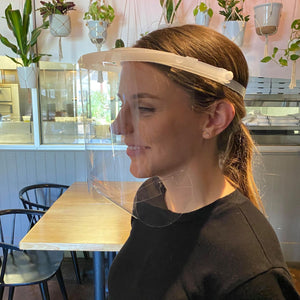 Lower Extended Face Shield (1 visor + 5 Lower Extended Shields)
Regular price
$34.95
Sale price
$39.95
WHAT'S IN THE BOX

1 Visor with Closed Cell Memory Foam Forehead Cushion

1 Top Shield

5 Sets of Anti-Fog Reusable/Disposable Lower Extended Shields (5 Front + 5 Lower)

Ideal for anyone who needs extra protection from below the neck, such as teachers working above students, estheticians, hair stylists, food handlers etc.
 Check out our easy set-up video below!

FEATURES
Anti-fog coating actively prevents your shield from fogging.  Enjoy your shield Fog-Free with clarity all day long.

Fully adjustable head strap for a custom fit. Enjoy a perfect and comfortable fit made just for you, and relieve yourself from any pressure of elastic bands.

Flippable visor with a 180 degree range that gives you the ability to take a breath of fresh air and have flexible accessibility.

Closed-cell memory foam cushion helps prevent germs from penetrating while adding extra comfort.

Ultra lightweight and ready to be worn all day, unlike most face shields.

Built-in ear savers to loop your mask and reduce stress from mask-wearing fatigue. 

Disposable & affordable shields Refresh to a brand new shield anytime you want at an affordable price

Includes everything you need! The SeePPE Face Shield has been developed and evolved over the past 10 years, and is highly trusted by medical professionals all over the world. We have modified the face shield for the non-medical person and for everyday use.
This Faceshield has been consciously designed for all-day comfort and protection. The design includes a clever union of a fully adjustable rigid visor and an easily replaceable front shield. With a sleek aesthetic, this best-selling face shield is the optimal protection for teachers, professionals, and general users.
SHIPPING
Ships out in 3-5 business days. In stock now.
 ------------------------------------------
*Patent Pending
Due to COVID-19 and safety concerns, this item is not returnable